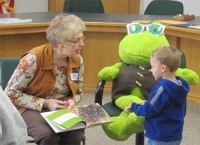 Retired teacher Kathy Davidson loves being around children, so she volunteers to read storytimes at the Albany Public Library. She recently volunteered to lead a Leap Into Reading storytime featuring stories about frogs and froggy crafts. Hopper, Great River Regional Library's Leap Into Reading mascot was on hand to help children understand how little eggs become tadpoles and then become big frogs.
Some of the books on display and available at the library were:
    The Croaky Pokey by Ethan Long
    Frog And Fly: Six Slurpy Stories by Jeff Mack
    In The Small, Small Pond by Denise Fleming
    One Frog Sang by Shirley Parenteau, and
    The Frog Prince, Continued by Jon Scieszka
The Albany Friends of the Library provided treats and gifts for a prize drawing at the end of the storytime.