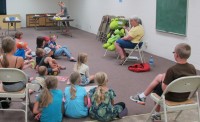 The Cokato Public Library was the Great River Regional Library location most recently visited by Hopper, the library's Leap Into Reading mascot.
A large group of children of various ages listened to Branch Assistant Konnie Miller read froggie stories before they began a craft activity. (Hopper had a great time playing with some local frogs.)
Each of the 32 Great River Regional Library locations is offering special summer programming activities, including the Summer Reading Programs for children and teens. Stop by the library or check the library's Events listings to see what's happening near you!