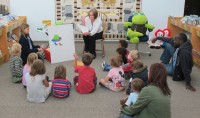 Hopper the Leap Into Reading frog joined a group of about 12 children at the Clearwater Public Library for fun and stories on Saturday, Oct. 13.
Hopper will visit all 32 Great River Regional Library locations this year. Leap Into Reading is an initiative from Minnesota's Department of Education to encourage early literacy. Children danced the "Hokey Croaky" and enjoyed froggy stories about frogs on a log and a wide-mouthed frog before completing a "frog on a stick" craft. Branch Librarian Cyrene Bastien had created tabletop displays of library books about frogs, including A Frog In The Bog by Karma Wilson, The Frog Who Could Not Croak by LaVelle Carlson, Down By The Cool Of The Pool by Tony Miffon, and A Place For Frogs by Melissa Stewart.
Check your local library for storytimes, toddler times and other children's programming.