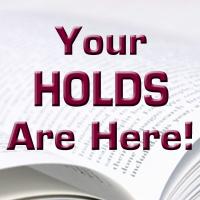 The library is now using an automated phone messaging system to notify patrons when their hold items are available. Previously, those calls were made by staff and volunteers. The automated calling system is routed through a remote phone line. This provides privacy regarding your reading selections and frees up the library's phone line for incoming calls. The time-consuming task of compiling the phone lists and making the calls has disappeared as the library's computers take over that work. The automated service is an improvement, but it's still not the best way to do things.
Email The Preferred Method
The best way for you to receive holds notices is via email. Although the automated calls system frees up staff for other tasks, each call results in a small charge to the library. Email notification is free of charge. If you currently receive hold notifications via phone message, please consider switching to email.
You can use an existing email account to receive notifications or establish an email account for that purpose. Many free email services are available. If you are not currently receiving hold notices via email, here's how to make that selection.
• From the catalog, click on My Account
• Enter your Borrower barcode # and your PIN # and log in
• Click on Profile
• Enter your Email information and click on Update
Once your email address is included in your profile it will automatically switch your notification method from phone to email.
Patrons who continue to receive hold notifications by phone will be called the day after holds arrive at the library. Patrons who are not reached by phone will be sent a notice in the mail.