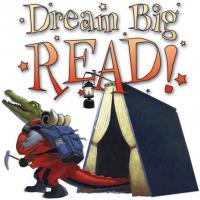 Invest in opportunity and success with a contribution to Great River Regional Library's Summer Reading Program. Summer is just around the corner and kids will once again be making happy memories! But the summer fun may come with a price. Statistics show this three-month break from school can set a child back academically. Without mental stimulation, much of what was learned in school can be lost. Some studies show students can lose over a month of progress made during the previous school year.
This summer, the library will help children across the region to retain that vital knowledge! "Dream Big, READ!" (children) and "Own The Night" (teens) are the 2012 Summer Reading Program themes. By working together with community members, Great River Regional Library can help keep kids reading. When kids sign up for our summer reading program, our staff:
  • keep them interested in reading throughout the summer
  • host literacy-enhancing programs
  • present hands-on activities focusing on critical learning skills
  • encourage them to borrow our books - for FREE!
We need your support now more than ever. Library activity is increasing at a steady rate. Your gift will help provide new books, programming, colorful plastic bookbags, prizes, reading records and other fun incentives for kids during the Summer Reading Program. Every donation you make has an immediate and profound impact. Please send your tax-deductible contribution today using the PayPal secure webpage. Keep our children reading, and build stronger communities throughout Central Minnesota.
Thank you in advance for your support.
Kirsty A. Smith
Director