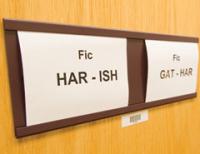 You'll never run out of good books at the library.
You'll find lists of books on the New, Best & Fun pages, as well as recommendations for DVDs and music CDs to enjoy. Have you checked out our New Fiction list recently?
Love in Lower Case, by Francesc Miralles was a big hit in Europe, and is now available to lovers of life, romance (and cats) in the US. Missing Pieces is a new thriller from the Edgar Award nominated bestselling author Heather Gudenkauf. And Scott Frank, award-winning screenwriter for films including Dead Again, Out Of Sight, and Marley & Me has written a highly rated novel titled Shaker about a hit man who lives under the radar until he accidentally becomes a public figure.
Check the list frequently because it's always changing. You'll find authors you know and new names to follow. Begin your search at the New, Best & Fun page. Place your holds. Check it out!