Posted September 13, 2013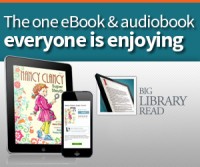 Classrooms of children and groups of friends and families can share a fun book experience from Monday, Sept. 16 to Monday, Sept. 30.
That's because Great River Regional Library is taking part in the Big Library Read, an international program that gives library patrons simultaneous access to a popular title for a two-week period, creating a virtual, global book club. Parents and children will be able to download a book and enjoy it together with readers from around the world at the same time. They will also be able to join virtual book discussions on Facebook and Twitter.
The book is "Nancy Clancy, Super Sleuth," a juvenile mystery chapter book that will be available in unlimited quantities in eBook and eAudiobook formats as a download through the Great River Digital Library. All GRRL cardholders will be able to check out either version without waitlists.
The Big Library Read program is an initiative of OverDrive, a company that provides the platform for Digital Library programs at more than 20,000 libraries around the world. For the Big Library Read, and by agreement with HarperCollins Publishers and author Jane O'Connor, OverDrive is making "Nancy Clancy, Super Sleuth" available without limits.
"Nancy Clancy, Super Sleuth," is the first chapter book featuring the popular Fancy Nancy character. The book is recommended for ages 7 to 10. It has 124 pages and an Accelerated Reader level of 3.3. For children who have read the Fancy Nancy picture books, it's an excellent book for making the transition into the chapter book format. Nancy is a little older, and she still has her love of fancy words, outrageous fashion and dramatic flair.
The Great River Digital Library works with most popular digital devices. Simply follow the directions available on the Digital Library help pages for installing the OverDrive Media Console app. GRRL patrons may borrow up to six titles at one time through the Digital Library, and have up to nine titles on hold at one time.