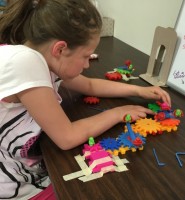 Brush up on your engineering and problem-solving skills: Kids are challenged to power the Krazy Gears Merry-Go-Round by figuring out how to connect interlocking gears to the power source. Don't forget to show a library staffer when you successfully complete the challenge! The Get In Gear challenge will be available at the Paynesville Public Library during library open hours until the end of May.
320.243.7343
Library Open Hours:
Mondays     2-8 p.m.
Tuesdays    2-6 p.m.
Wednesdays  10 a.m. - 6 p.m.
Thursdays   2 - 6 p.m.
Fridays     2 - 8 p.m.
Saturdays   10 a.m. - 1 p.m.