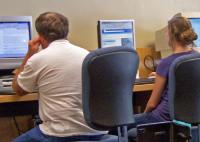 If you've got shopping to do but don't want to deal with Black Friday crowds, skip the lines and shop online. Use the library's computers to search for the perfect size and color of whatever you might be looking for: socks, scarves, table lamp or vintage movie poster.
Got family or friends overseas? Set up a free email account with Yahoo! or another service provider, and use library computers to stay in touch.
Planning a vacation trip for next summer? Use library computers to research your destination. Is the snorkeling good, the local restaurants? Where do the locals shop? Go online and see what people say.
You can use library computers to complete student loan paperwork, create your resume, search for and complete job applications.
Got a job that puts you on the road? Use the Great River Regional Library (GRRL) wireless connection to stay in touch.
GRRL provides computers and wireless Internet service at each of it 32 branch libraries. Each computer is equipped with the Microsoft Office suite of applications, the same powerful tools used in the management of organizations small and large.
You can use GRRL computers to do research, join a social network, explore gaming technologies, even read a book!
Computers are available by reservation or may be available on a walk-in basis.