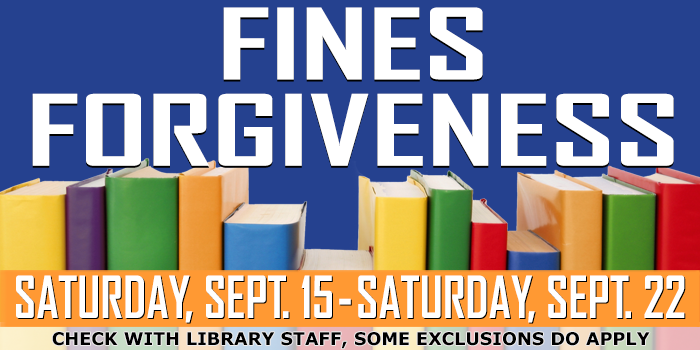 Do you have outstanding GRRL fines or unreturned library books? Does this keep you or someone you know away from your local library? 
Let's fix that.
Great River Regional Library is pleased to introduce Fines Forgiveness Week – a week dedicated to eliminating fines and reinstating full library use privileges. 
How it works: patrons simply visit their library between Saturday, Sept. 15 and Saturday, Sept. 22 and work with their librarian to review and eliminate fines and penalties. 
That's all there is to it.
We'll accept your unreturned materials - no matter how long it's been or if they've been damaged. Your fines will be forgiven, whether old or new. 
   
Some exclusions do apply to other kinds of charges. The most important thing? If you're not sure if your situation fits within the rules of the Fines Forgiveness Event, go to the library and talk with your librarian.
We want to make the library a place for everyone - even people who have been worrying about their fines or unreturned items. 
We're here to help you wipe the slate clean and get back to using the library. Situations will be looked at on a case-by-case basis. Don't let your situation make you anxious about going to the library.
   
Tell your friends and family - maybe they've got outstanding fines or old library books you don't know about!