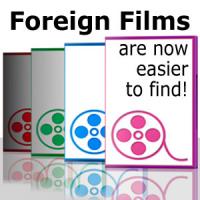 Bravo!
It's now even easier for foreign film lovers to find movies they'll enjoy from the Great River Regional Library (GRRL) catalog. The library's technical services staff have modified catalog records of films to make them consistent and more useful. Here's what they've done:
1) Geographically subdivided the "Foreign films" heading in all records it appears in, so it should be much easier to identify films from specific places.
2) Subdivided geographically the "Feature films" heading for films produced outside of the United States.
3) Adjusted the "Motion pictures" heading so it always refers to the language of the film rather than the country of origin. For example, "Motion pictures, Spanish" will bring up a list of all films in Spanish, regardless of whether they come from Spain or Latin America.
Here's how this can work for you:
Use the dropdown menu on the catalog search page to select Subject Alphabetical.
Key in "Foreign films" and click on the arrow. A lengthy list will appear that begins with "Foreign films – Afghanistan" and progresses through dozens of nations to "Foreign films – Yugoslavia."
Click on any one to see the list of films from that nation.
Alternatively, a Subject Alphabetical search for "Motion pictures" provides a lengthy list of headings including those for languages. For example, Motion pictures, Arabic; Motion pictures, Bengali; Motion pictures, Chinese; etc. A direct search for "Motion pictures, Portuguese" produces a list of films both from Portugal and Brazil.