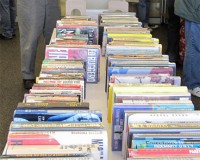 The St. Cloud Friends of the Library Bag of Books Sale will take place Thursday through Saturday, April 16-18 in the Mississippi Room of the St. Cloud Public Library.
The sale features great deals on books by the bag including fiction, non-fiction, romance, mystery, paperbacks, children's and VHS. On Thursday bags will be priced at $3; Friday features a special where if you buy one bag at $3 you'll get the second bag free; and Saturday's price is $2 a bag. The sale will also feature a vintage, collectibles, and records section with sale prices as marked, as well as a silent auction that will run the duration of the sale. See our Bag of Books Sale Flyer for more information.
There will never be a better chance to buy read and leave books for summer vacations.