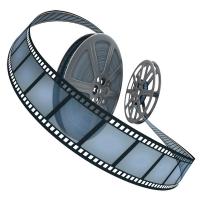 Some of the best classic American movies fall into a category called film noir, noir being French for black: films like "Sunset Boulevard," "The Maltese Falcon" and "Double Indemnity." Their mood is dark.
You know film noir when you see it. Classic noir was produced between about 1940 and 1955. The stories feature private detectives in suits and fedoras, double-crossing women with bad intentions, dark alleyways, plots that twist like a pinned worm and the kind of tough dialogue it's easy to parody.
"Oh yeah!"
"Yeah."
"What are you, some kinda wiseguy?"
Many of the writers on noir movies are well-known for the hard-boiled fiction they published, authors like Raymond Chandler, Jim Thompson, and Cornell Woolrich. If you enjoyed books like "The Glass Key" and "Farewell My Lovely," you'll probably enjoy film noir.
We've put together a list of some great film noir titles. You'll find it with all our other lists on the New, Best and Fun tab on the library catalog page. Take home one of these great films to see American cinema at its most enjoyable.