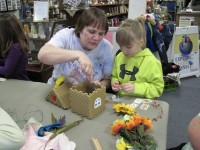 Eagle Bend library patrons of all ages enjoyed a creative activity on Saturday, Feb. 1.
Artist Jen Anfinson provided supplies and tips on creating "fairy gardens" as part of an event funded in part with money from Minnesota's Arts and Cultural Heritage Fund.
Here are comment from attendees:
This program "helped the children to be creative and share with parents . . . good way to recycle and have fun."
"Great mommy / daughter time. Thank you!"