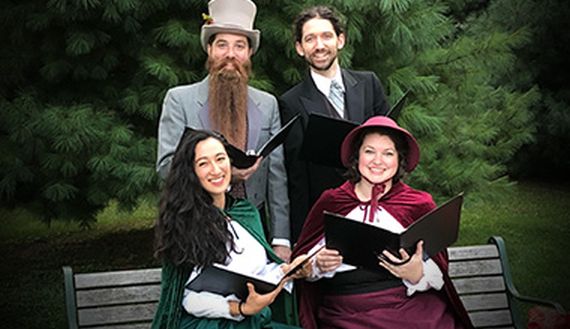 Even if you are not a fan of winter, the Becker Public Library has several good reasons why you can look forward to December. On December 7th, the Becker Community Center will be hosting its annual Breakfast with Santa. In conjunction with this fun, family event, the Becker Public Library will be hosting several fun holiday activities for all ages (or as the song says, "kids from 1-92"):
The Minnesota Carolers – Do you love holiday music?  The Becker Public Library is proud to present the Minnesota Carolers to brighten your holiday. Whether you are looking for music that's old, new, sacred, secular, classic, dramatic, or hilarious, this premier group of singers delivers a sleigh full of fun to every holiday celebration!  The group will perform during Santa's Breakfast from 9:30-10:30. A Legacy event.
Holiday Book Sale – The Friends of the Becker Library will hold a small book sale from 9:00a.m. -12:00 p.m. Many of the items will be holiday-specific and "cream of the crop" donations that would be suitable for gifts. The proceeds from the sale will benefit the Becker Public Library.
Christmas Crafts for the Kids – After breakfast and a visit with Santa, stroll down the hall to the library and make a fun, holiday ornament craft to take home and hang on the tree. For ages 3 and up, while supplies last. Sponsored by Friends of the Becker Public Library.
Holiday Scavenger Hunt – I spy…a gift! Have the kids search the library to locate the ten hidden gifts. After finding all 10, come to the library for a special holiday treat. For ages 3-12. From 10:00 a.m. – 1:00 p.m. Sponsored by the Friends of the Becker Library.