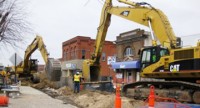 Albany is really Digging in this summer! Just look at the big Cats tearing up the road!
But don't let digging on Railroad Avenue keep you from visiting the library. We are easily accessible from Church Avenue off Eighth Avenue and from the Wobegon Trail.
You can "Dig into Reading" or find out what is "Beneath the Surface" with the Summer Reading Program. Join those who have already started and sign up. There is a lot of time left to read. We have a program for 0-3 year olds and 3-12 year olds, and also a teen program for grades 6 to 12. You pick your own reading material, keep track of how many minutes you read, and return your tracking sheets to the library for a treat and a chance to win the weekly and grand prize drawings.
This summer Battle of the Books returns. Whether or not you have participated in the program when you were younger you will enjoy the new Battle of the Books for ages 13-17. Come to the library to sign up and get the book list. The Battle of the Books trivia game is Monday, Aug. 5, from 6:30-7:30 p.m.