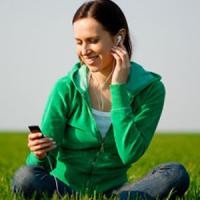 Driving and doing housework are just two of the activities that can be improved with an audiobook. A list of new audiobooks at Great River Regional Library is kept on the New, Best & Fun page (tabbed from the catalog) with something for every kind of reader.
There are biographies and autobiographies, including Barney Frank's Frank: (a life in politics from the Great Society to same-sex marriage), and Sophia Loren's Yesterday, Today, Tomorrow. There's non fiction in the form of Dead Wake: The last crossing of the Lusitania, an account of the WWI destruction by German U-Boat of the passenger ship with the loss of 1,198 lives, and Lives In Ruins: Archaeologists and the seductive lure of human rubble, a look at the lives of contemporary archaeologists. There's great fiction, of course, including A Fine Summer's Day by Charles Todd, set at the outbreak of WWI and part of the Inspector Ian Rutledge series, and Madness In Solidar, the ninth in a fantasy series by by L.E. Modesitt, Jr.
Take a look at the list for yourself and place your holds! To simplify catalog searches for audiobooks, add "spoken word" to a general keyword search term. For example, biography, spoken word. Check it out!