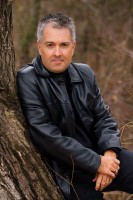 Join us for an evening with international bestselling author, Brian Freeman. Brian will discuss his books including the newest Jonathan Stride novel, "The Cold Nowhere," which is a finalist for a Minnesota Book Award. Brian will take questions from readers and his book will be available for sale and signing.
The presentation will be in the Fellowship Hall of Zion Lutheran Church, 1200 Hwy 25 S. in Buffalo at 7:00 p.m. on Thursday, March 20. Light refreshments will be served.
This program is sponsored by the Buffalo Public Library and Friends of the Buffalo Library, and funded in part with money from Minnesota's Arts and Cultural Heritage Fund.