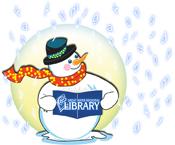 "A Reading Wonderland," the Winter Reading Program at Great River Regional Library (GRRL), will provide prizes and reading incentives until it ends Feb. 27.
It's cold outside! So why not settle into cozy winter reading habits. The library's Winter Reading Program is designed for teens and adults and is open to anyone in the 6th grade or older. Each of the 32 branch libraries in the GRRL system will have prize drawings for participants. All booklovers need do is register for the program at a branch or online and pick up a drawing slip. A slip can be turned in for every five books read (audiobooks count, too). Slips do need to be turned in at the branch library selected for online registration. Branches will have drawings for special Reading Wonderland mugs, winter gift baskets, and regional grand prizes including gift cards and gas cards.
Many of our libraries are scheduling special events to support the program and encourage winter reading. Visit the events page for more information about what's going on in your local library.