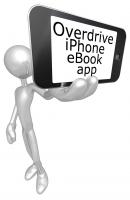 OverDrive has released an update to the OverDrive apps for iPhone and Android which adds support for e-books from OverDrive libraries including Great River Regional Library (GRRL).
This means that GRRL patrons downloading e-books and eAudiobooks from the Great River Digital Library now have more options available.
OverDrive Media Console v2.0 for iPhone and Android enables users to download and enjoy EPUB eBooks on their iPhone, iPod touch or Android phone/tablet in addition to the existing ability to download MP3 audiobooks. The eBook reading experience includes user-inspired features for bookmarking and adjusting brightness and font size. Additional features will be added as the apps develop, including highlighting, annotation, in-app text-to-speech, and more.
GRRL is ading new e-books and eAudiobooks to its collection every week. Through its partnership with OverDrive, the Digital Library is growing to meet public demand and interest in new electronic information resources.
OverDrive is currently working to satisfy additional requests to support other devices, including iPad. Currently the iPhone app will work on iPad with iOS 4 and enables the full browse, check out, download experience. OverDrive promises that an optimized version for iPad—with improved resolution and additional features—is coming soon, along with apps for BlackBerry and other mobile devices.
For more information on OverDrive's apps with e-book support, visit the software page on OverDrive.com.