Posted September 29, 2015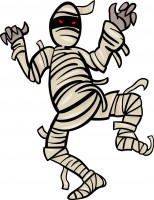 Spookiness abounds in October, and the St. Cloud Public Library is asking for more! We're asking you to create wee windows of terror to share with the larger community. We provide the boxes, you provide the horror diorama. There are many iconic scenes from scary movies - or perhaps from your own nightmares!
Boxes are available from the Information Desk on the upper level, and should be returned there once transformed into something spooky. Dioramas will be displayed on the upper level beginning Tuesday, Oct. 20.