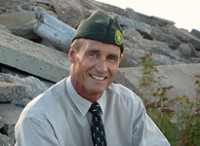 Storyteller and musician Bill Jamerson is bringing his "Dollar-a-Day Boys" presentation to the Paynesville Public Library on Friday, Oct. 9, from 6:30-7:30 p.m. The hour-long multi-media program includes songs, stories and video clips about FDR's Civilian Conservation Corps in the 1930s that employed 86,000 young men who planted 180 million trees and built 2,400 roads, a dozen state parks and much more.
Since 1992, Bill Jamerson has researched the CCC. He produced a documentary for Michigan PBS, recorded a CD of songs, and wrote a historical novel. He presents "Dollar-A-Day Boys" all across the Midwest. Over 2.5 million men enlisted in the corps and today, their children and grandchildren have a keen interest in it. They often show up with CCC photo albums and memorabilia; they also share wonderful stories about their relatives with the audience.
The story of the CCC has universal appeal because it's about underdogs who are given a second chance.There will be lots of music and laughs - this is a fun program you won't want to miss.
Jamerson will present his program at 18 GRRL communities. Check the Events calendar for more information.