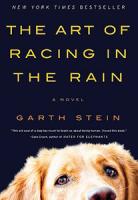 Adults are invited to join the Belgrade Library R.E.A.D. (Read, Eat And Discuss) Book Club for adults, meeting the third Friday of each month. Meetings include friendly book discussion and dessert. The next meeting will be at 6:30 p.m. on June 17 to discuss The Art Of Racing In The Rain by Garth Stein.
"The Art Of Racing In The Rain" is narrated by Enzo, a lab terrier mix, on the eve of his death. It is the story of one man's life struggle, as seen from a dog's perspective, which includes the thrill of competitive auto racing, love, tragedy, and redemption. According to author Jodi Picoult, this is "The perfect book for anyone who knows that some of our best friends walk beside us on four legs."
Stop by the Belgrade library to get a copy of the book of the month.