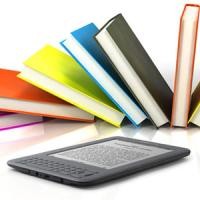 If you received an iPad, Kindle, Sony Reader or Nook this holiday season, you may be looking for help with your eBook downloads. Here are some tips for downloading from the Great River Digital Library.
• First take a look at the OverDrive Help page. This will walk you through downloading the software you need for putting a book from our catalog onto your device or computer. Make sure to use the correct software for your specific device!
  Next, activate the software so it will be ready for you to check out materials.
  Finally, follow the guide through the checking out and downloading process so you can enjoy your eBook on your new device.
• When downloading your eBook, make sure it's the correct format for your device. Check out the Device Resource Center for information about supported eBook devices.
• For further help with the check out process, go to the Browse & check out page. There you can find details on how the "Cart" works. For instance, once you put an item in your cart it will be there for 30 minutes until it is automatically removed if you haven't checked it out.
  Items you have checked out cannot be renewed, and you are limited to six items checked out at a time.
• Make sure to also check out the Help section of the Great River Digital Library for further assistance with the entire process of downloading e-materials to your device.
The Digital Library collection is growing. Check the "Just Added" titles on the home page to discover more books to enjoy.
Project Gutenberg
Another source for eBooks free of charge is Project Gutenberg. The Great River Digital Library purchases new books. Project Gutenberg collects classic books out of copyright and in the public domain. You can browse by author or title, or scan their Top 100 lists to find eBooks to enjoy. Just within the author "B" list you'll find western writer Max Brand, "Wizard of Oz" author Frank L. Baum, Tarzan creator Edgar Rice Burroughs, the Bronte sisters and more. Included on Project Gutenberg's top 100 list are titles such as "Moby Dick, Or, The Whale" by Herman Melville, "Siddhartha" by Hermann Hesse, "Great Expectations" by Charles Dickens, and "Pride And Prejudice" by Jane Austen.