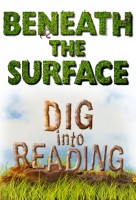 Sign-up is now taking place for Great River Regional Library's annual Summer Reading Program (SRP) for children and teens ages 0-18. The program will continue through Saturday, Aug. 10 at all 32 GRRL locations.
Two programs are offered: "Dig Into Reading" for children from birth through sixth grade, and "Beneath The Surface" for children entering grades six through twelve. Children entering sixth grade may choose to register for either program. "Dig Into Reading" includes a baby/toddler program for ages 0 to 3 to enjoy with their parents/caregivers.
Click on Kids and Teens to explore some fun SRP links, and check out the library events calendar to find out about special summer programs at your local library.
The goal of the SRP is to encourage children and teens to continue reading during the summer months. Studies show that students who enroll in library summer reading programs and continue to read during the summer maintain or improve their reading skills more than those who do not.
Kids who take part in the SRP will receive reading records. When completed, these become coupons which can be turned in for prize drawings!
Children who are visiting or vacationing in the area are welcome to take part in the SRP. All books and reading materials count for the program, including materials that do not belong to the library.