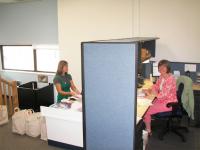 Delano Public Library staff and patrons are enjoying the benefits of a recent remodel that added an estimated 300 sq. ft. of space.
The Delano library building used to be a bank. When it was converted to a library the bank maintained a drive-through business on one corner. Earlier this year, the bank ended services at the library location and offered its space to the library. Branch Manager Carol Plocher was happy to accept.
It came with two safes surrounded by 5" of cement, and bulletproof windows. The glass is still there, because it's expensive to remove and works just fine. The safes are gone. "We had somebody bring in an acetylene torch and cut them out," Plocher said.
The new area is behind the circulation desk and adds significantly to efficiency and public service. Where there used to be a teller, there is now a book drop. "It's sheltered from the rain and available to the public 24/7," Plocher said. "That was one of our big goals when we looked at the space, because our previous book drop was only open during library open hours."
A work station has been installed next to the book drop where items can be checked in and sorted. Plocher also put her office cubicle there. (See photo.) Connected by a short hallway is another space that serves as a staging area for deliveries to and from Delano to other libraries in the Great River Regional Library system. Delivery staff can go in and out without navigating busy areas of the library.
"I'm so grateful to our Friends of the Library group because they paid for the work and actually did some of it. I'm also grateful to the city, because they could have taken the space for themselves," Plocher said. Instead, the library gave its basement storage area to the city and moved everything upstairs. "We've been able to consolidate our storage and processing and become much more efficient."