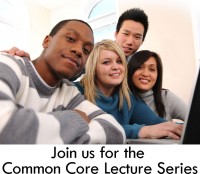 The St. Cloud Public Library has partnered with the English Department of St. Cloud State University to offer a series of free lectures in February open to the public. Below are the dates and topics for each lecture:
Monday, Feb. 8: Music of the Holocaust. Music has always had a place during times of resistance. This talk will explore the music that came from the concentration camps. Bremer Room from 6:00 to 7:00 p.m. After the lecture, be sure to see the Anne Frank exhibit in the upstairs teen area
Thursday, Feb. 18: Language, Anyone? This is a one-hour lecture/conversation, providing teens and adults an opportunity to consider their own attitudes on what language is and how it is used. Bremer Room 5:30 to 6:30 p.m.
Monday, Feb. 22: The crossroads of medicine and narrative health. The emerging fields of Medical Humanities, Health Humanities, and Narrative Medicine are gaining interest in both the professions and among patients and care givers alike. This talk describes the local, regional, and national activity around these issues and offers an experience that helps people understand how Health/Medical Humanities works. Bremer Room from 6:00 to 7:00 p.m.
Monday, Feb. 29: Reading the World's Greatest Authors, the Nobelists. How should I select a good book to read when considering the more than 100 Nobelists in Literature? What will I gain from reading these authors? This talk will help you to prepare your winter fireside reading for years to come! Bremer Room 6:00 to 7:00 p.m.