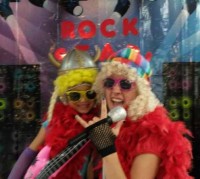 The summer fun has begun!
Join us for 'Read To The Rhythm' at the Paynesville Branch, and let the good times roll. We've got Rock Star! photo booth (bring your camera or camera phone) complete with glam rock costumes, new toys, Make and Take crafts for kids to create and bring home, and our Summer Reading Programs for ages 0 and up. And check out all the special events. No summer doldrums here, and the library is cool when it's hot outside.
Pictured: Mom and daughter rock out for a photo booth picture.