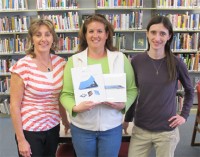 Renewing cardholder Karla Smetana from Cold Spring was the grand prize winner in Great River Regional Library's National Library Card Sign-Up month promotion and received an Apple iPad and cover.
Library patrons who renewed their cardholder status or registered for a library card for the first time during September's "Get Carded" promotion were eligible for the prize drawing. Also eligible were patrons who referred a person who registered. The winner was chosen by a blind drawing. The library registered 1,458 new cardholders during the month.
Smetana said she was looking forward to the challenge of learning how to use the iPad. She is photographed in the Cold Spring Public Library flanked by Branch Manager Jodi Brinkman (left) and Library Aide Katie Schotl.
Wireless access for the iPad is available in all 32 GRRL locations, and the iPad can also be used to download eBooks and eAudiobooks from the GRRL Digital Library. The iPad and cover were provided by the Friends of the St. Cloud Public Library.