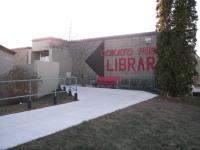 A new public library building may be in the future for Cokato.
Discussions are taking place about relocating the Cokato Public Library into a larger, more accessible building.
The Cokato Library Building Committee is in the process of gathering information and looking to other community organizations for support, according to Great River Regional Library Branch Manager Sheila Rieke. She has spoken with three architectural firms that have worked with other libraries in the GRRL system. Each will present information to the committee over the summer. The committee will then make a recommendation to the city council about which direction to take.
Three options are being discussed: expanding within the current building; building on a lot next to the library or other land owned by the city; or moving into a vacant store in a mini-mall in Cokato's business section, just a few blocks from the current library.
The current library is on the upper level of a two-story building with access from the street via a long ramp. There is no off-street parking. The library has a strong relationship with an elementary school located across the street and also with the museum housed in the building's lower level.
Despite being one of the smaller libraries in GRRL, Cokato Public Library is busy. Almost 81,000 items were borrowed from the library in 2008, a 5 percent increase over the past three years.