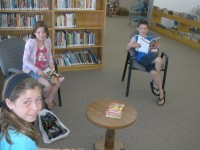 Wow! That is what everyone is saying when they walk into the new Clearwater Library. The 3750 sq. ft. space is considerably larger than the old location. The additional space provides a meeting room, teen section, and places for readers to relax.
For years, the library's advisory board noticed the need for expansion and researched many options. The stars aligned this past winter: the advisory board asked the Clearwater City Council for approval to pursue the new space in February. Preparations went into high gear in March after the GRRL Board of Trustees approved the relocation project. Before we knew it, June arrived and it was time to move.
The new space is located in the same shopping center as the old library, but it just may be one of the fastest relocations on record. It is with great thanks to Greg Beuning (landlord), the Clearwater City Council, Clearwater City Administrator Jennifer Wothe, the Friends of the Clearwater Area Library, Xcel Energy, local businesses, and numerous volunteers that we are able to be in this beautiful new library. And we opened a day ahead of schedule!