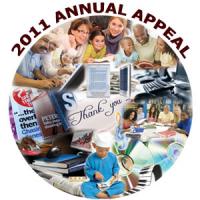 From GRRL Director Kirsty Smith:
Happy Holidays!
The New Year is just around the corner. People everywhere will celebrate this joyful time of year, even those for whom financial struggles will make celebrating more difficult than usual. Please remember that your donation to Great River Regional Library is tax-deductible. If you are able to make a donation to Great River Regional Library, don't forget that you can claim it on your tax returns. We will be happy to provide you with a receipt.
Your donation can help us meet the challenges we face. Difficult times in the nation's economy create busy times for libraries and today's library users needs more from their library than ever before.
• Our patron base continues to grow. October's total of 141,854 cardholders is an increase of 2,641 over last year.
• Checkouts continue to increase. As of Oct. 1, 2011 checkouts averaged 357,359 per month. (The 2010 average was 341,330.)
• Checkout sessions also increased. As of Oct. 1, 2011 checkout sessions at the library desk averaged 61,333 per month. (The 2010 average was 60,591.)
Every day, young families with children browse materials in our children's area, displaced workers seek opportunities via our computers, and seniors read magazines and the local newspapers. The public library continues to be a vital, well used community center. Our main business involves books and information, but library patrons expect to also find current media, digital resources for download, programs. computers, and a comfortable environment. To meet patron demand we need continuing support from you and other people who place a high value on library services.
• $100 will help to support "Every Child Ready to Read" - reinforcing early literacy
• $250 will support incentives for Summer Reading Program participants
• $500 will fund a book club kit, encouraging inter-generational community connections
• $1,500 will provide a new public computer and software to provide access to job searching, tax information, family genealogy and other services.
Your support can help people of all ages maintain or improve the quality of their lives. Please consider helping to support library services with a charitable tax-deductible contribution to the GRRL general fund. Your tax-deductible gift to the general fund is one of the most important ways you can help to ensure free access to information, resources, and guidance for your entire community. Donations can safely and easily be made through our PayPal link on our Support the Library page. Thank you, on behalf of all those who depend on public libraries!