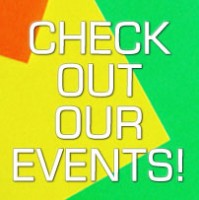 We've changed the Events page on our website, making it easier and more informative for you, the user.
The link for Events is on the left column. Now would be a good time to visit and to see what kinds of programs we offer. Believe us, there's something there for everybody, from Lunch with a Master Gardener, to Financial Literacy for Seniors, to Teen Coffee House Concerts, to Preschool Storytime and Movies at the Library!
We've added colorful icons (circle, triangle, square and star) to indicate if programs are for children/families, teens, adults/seniors, or multiple age groups. The listings can also be searched by branch location, age group, event type, and keyword. Each listing connects to a program description page including a registration link if required.
This new look and added functionality is just in time for a busy summer reading season for the kids, so check it out, sign up, and try our programming!