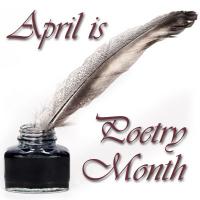 National Poetry Month is a month-long, national celebration of poetry established by the Academy of American Poets in 1996, taking place each April. The Academy's website, Poets.org, has a list of 30 ways to celebrate. Use the list to find a way to celebrate poetry in your own life. At the library, we've created a special poetry list for the New, Best & Fun page. Check it out to find books, audio and video with poetry selections for all ages.
We're also featuring a poem a day, Monday through Friday, to celebrate some of the staff's favorite poems. Today's poem, "Marginalia," was recommended by Patron Services Specialist Sandy Toland. It is by Billy Collins, a former American Poet Laureate and great observer of life. The poem begins:
Marginalia
Sometimes the notes are ferocious,
skirmishes against the author
raging along the borders of every page
in tiny black script.
If I could just get my hands on you,
Kierkegaard, or Conor Cruise O'Brien,
they seem to say,
I would bolt the door and beat some logic into your head.
Read the complete poem at the Billy Collins website. Marginalia is included in the Collins collection Picnic, Lightning, available at Great River Regional Library. Tell us what poetry you enjoy. Let us know on Facebook.