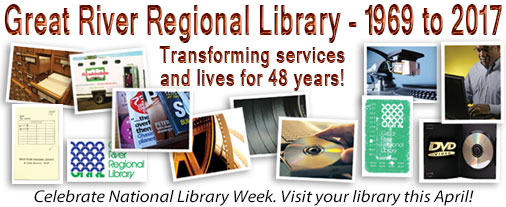 How has your library transformed over time? How has your library transformed you?
Those are a few questions behind this year's National Library Week, set for April 9-15. Here at Great River Regional Library, we're celebrating the many ways libraries are changing the lives of people in our communities through the ever-growing lineup of services and expertise they offer.
Created in 1958, National Library Week serves as a yearly reminder that the opportunities offered by libraries strengthen society and play an important role in the democratic process.
And those opportunities are more diverse than ever before.
GRRL has 32 locations with nearly one million books, CDs and DVDs. Our libraries are equipped with 250 public computers, a deep database of online resources and the latest technology, available to all. They feature classes on job development and spoken/written language skills. They offer year-round programs for youth. They're hubs for community organizations needing inclusive, accessible space.
Access to library offerings has become easier than ever through griver.org. Each library within the Great River Regional Library system is connected with a floating collection. If your local library doesn't have something you want, you can request it through GRRL's catalog and receive it in a few days.
And, if you can't find what you're looking for within the GRRL system, we'll track it down, no matter where it might be.
So, this National Library Week, stop by your local GRRL branch and tell us how your library has shaped your life. We'd love to hear about it!