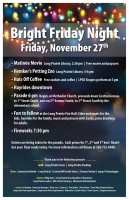 It's the Friday after Thanksgiving and the perfect time to get in the mood for the December holiday season!
The Long Prairie Chamber of Commerce and many local businesses and organizations are sponsoring "Bright Friday Night." It begins at the library with a free holiday movie and popcorn! After the movie, Hemker's Petting Zoo will be in the library parking lot with lots of cute animals--remember to bring your camera! Take the whole family on a free hayride! Enjoy free coffee and cookies at Hats Off Coffee while listening to holiday music performed by the LPGE singers. Then it's time for the parade! After the parade, warm up with cider and Santa and more treats at the fire hall. To end a perfect evening, fireworks will begin at 7:30!
Friday, Nov. 27, "Bright Friday Night" complete schedule:
2:30 p.m. Free movie and popcorn at the Long Prairie Public Library
4:00 p.m. Hemker's Petting Zoo Long Prairie Public Library parking lot
                 Hayrides downtown. Free coffee and cookies at Hats Off Coffee.
5:00 p.m. LPGE Singers perform at Hats Off Coffee
6:00 p.m. Parade begins at the Methodist Church and proceeds to the elementary school.
7:00 p.m. Santa, cider, treats and hayrides at the Long Prairie Fire Hall.
7:30 pm. Fireworks!