Posted September 25, 2015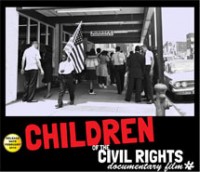 Witness how humanity can change the course of history forever in the documentary "Children of the Civil Rights" showing Saturday, Sept. 26 at the St. Cloud Public Library at 10:00 a.m. Discussion afterwards with the film's creator.
No one knew a group of children in Oklahoma City were heroes; not even the children themselves. The "Children of the Civil Rights" documentary film tells their story. For six years, Oklahoma City kids conducted sit-ins with their youth adviser, Clara Luper. They started in 1958, a year and a half before the Greensboro, N.C. sit-ins. The group demonstrated until 1964 when the Civil Rights Act took place. Their peaceful protests did not garner a lot of national attention, but they led to the desegregation of just about every restaurant in Oklahoma City before the Civil Rights Act became law.