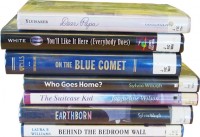 The poet T.S. Eliot wrote that April is the cruelest month, but he never suffered a Minnesota winter!
For us, April signifies rebirth and creation. It's the perfect National Poetry Month.
We're inviting teens to try their hand at book jacket poetry in April. It's easy.
You make poetry by stacking books so their spines read like lines in a verse. Like this:
The Sun Also Rises
Under Milk Wood
Where The Wild Things Are
All Quiet On The Western Front
By Love Possessed
Then, photograph your stack and share the photo with us on Facebook. We can't wait to see what you come up with!