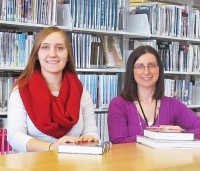 If all you have is questions and what you want is answers, you should talk to a librarian.
Lucky for you a new service called "Book A Librarian" is being offered at Albany Public Library.
Visiting librarians from Great River Regional Library headquarters in St. Cloud will be available by appointment to meet one-on-one with library patrons to answer their questions. You'll have their undivided attention. So if you want to make your own shampoo and need a recipe. Or you want to know the sea fishing regulations for the Bahamas. Or if you want to figure out how to download an eBook to the reader the kids bought for your birthday, book a librarian!
You can get help with:
- genealogy research
- using the Digital Library for eBooks and eAudiobooks
- using library computers
- personal, professional, and school research, and much, much more!
Call (320)845-4843 to schedule an appointment during library open hours.
(M 12-7; T 12-8; W 10-6; Th 12-6; F 12-5; S 10-1)
Drop-in and call-in service is also available. Ask your library staff for more information.
Drop-in Schedule
  Friday, March 21, 3:00 to 5:00 p.m.
  Monday, April 7, 4:00 to 6:00 p.m.
  Friday, April 18, 3:00 to 5:00 p.m.