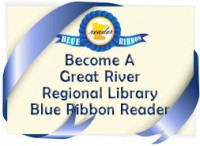 If you love to read and are in the 8 to 18 age group, you can be recognized as a Blue Ribbon Reader at Great River Regional Library. Just use the official essay form, available as a download and from your local library, and write a short essay on why you love to read!
Do you love the places books take you, the people they portray, the adventures books describe, the new things you learn…? Tell us, in your own words.
Each of the library's 32 locations will pick a top reader. The region-wide winner will be selected randomly from those entries and receive four free tickets to the Minnesota State Fair.
Essays will be accepted through Saturday, July 27. Hand-written entries only will be accepted, and must be completed on the space provided on the front of the official essay entry form.