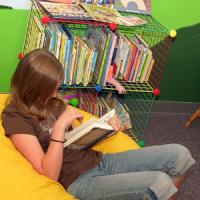 Children don't leap from picture books to novels. Their comfort with reading complex stories develops over time. The next step from picture books is easy readers, and after easy readers they begin chapter books written specially for children. These combine pictures with text in a longer format. Some have more text or more pictures than others. The library is always adding new titles, and Beginning Chapter Books have their own New, Best & Fun list.
Some beginning chapter books are published as series. The current list includes Mercy Watson To The Rescue, an entry in Kate DiCamillo's fun Mercy Watson series about a wonderful pig. Marvin Redpost, Kidnapped At Birth? is the first in the Marvin Redpost series by Louis Sachar. You'll find books about soccer, about vampires, about zombies and about a cuddly bulldog named Rocky.
The New, Best & Fun page is tabbed at the top of the catalog. The lists change frequently. Take a look at the list of your choice, take a look on the shelves, and take home some books for happy reading!