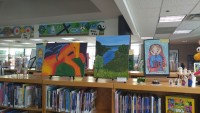 Thursday, May 5 kicks off the Becker Schools Art Show at the Becker Public Library. This is the fifth year the library has hosted this event. Art teachers from each school location select pieces students have created throughout the year.
"Thursday is the Open House Reception for the students and families. The teachers do a great job with selecting pieces and providing refreshments. The library provides the space and the background music. It's a great community collaboration," said Jeannette Burkhardt, library services coordinator.
Harp music was added to the event about four years ago. Colleen Austin will provide harp music for ambiance that provides the feeling of a real gallery event. Austin is happy to show interested people how the harp works, and she allows the kids to strum the harp as well. Austin's harp music performance is paid for by state Legacy funds.
The Open House starts at 5:00 p.m. The art pieces will remain on display throughout May.