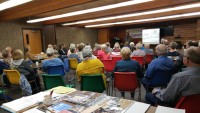 An enthusiastic crowd gathered at the Becker Senior Center on Tuesday, April 19, for Phil Lancaster's presentation of Riders on the Orphan Train. Phil is an internationally acclaimed singer/songwriter who travels and presents the story of 250,000 orphans and unwanted children who were put on trains in New York between 1854 and 1929 and sent all over the United States to be given away.
Phil sang original music, ran a picture slide show and presented film clips from interviews with actual Orphan Train riders. The group of about 60 participants shared any knowledge of Orphan Train riders from their own families or knowledge about friends that were Orphan Train riders and lived in the Becker/Clear Lake area.
This program will be repeated at several GRRL locations in the coming weeks. Check out the library's Event Guide for more information.