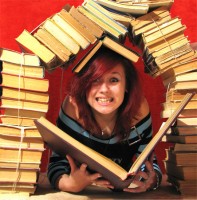 Are you up to the challenge of the Battle of the Books?
Battle of the Books is a trivia game for ages 8 to 13 where you and your friends answer questions from seven special books chosen by the library staff. You don't have to read all the books, just the ones you like, because you will be grouped with other kids to make a team. Join us for a night of trivia, food and fun!
Sign up at the Sauk Centre front desk or online at griver.org. Registration is through Thursday, Aug. 7; the battle is on Thursday, Aug. 14, from 6:00 to 7:00 p.m..