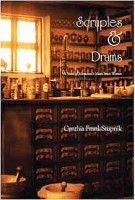 Join Minnesota author Cynthia Frank Stupnik Saturday, Feb. 6, 10:30 a.m. to 12:00 noon at the Paynesville Public Library, 119 Washburne Ave., Paynesville.
Her book Scruples & Drams, A Novel of Main Street Women of Minnesota, explores the town of Clearwater in the late 19th century through the life of Jennie Phillips, an apprenticing druggist in her father's store. The novel uncovers the ghost of a murdered Irish girl roaming the Tamarack Swamp and the criminal elements that were part of the small town's history.
To insure adequate seating, please preregister online for this event, or call the Paynesville Public Library at 320.243.7343 during open hours: Mondays 2-8 p.m., Tuesdays 2-6 p.m., Wednesdays 10-6 p.m., Thursdays 2-6 p.m., Fridays 2-8 p.m. and Saturdays 10-1 pm.