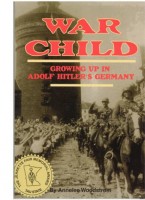 Join us at the Belgrade Library on Friday, April 15 from 2:30 to 3:30 p.m. to hear author Annelee Woodstrom describe her years growing up in Hitler's Germany. As a child she saw her share of horror - the carnage left after bombings, homeless children struggling to survive in the streets, and the survivors of a concentration camp not far from her hometown.
At 20 she found peace and serenity, moving to Minnesota with her husband where they raised two children. Woodstrom later attended college in Moorhead and fulfilled her dream of teaching English and other subjects, many of those years in Twin Valley, MN.
Woodstrom has authored two books: "War Child: Growing up in Adolf Hitler's Germany," and "Empty Chairs." Her books will be for sale at this special event funded in part by Minnesota's Arts and Cultural Heritage Fund.
For questions you may contact the Belgrade Library at 320.254.8842.