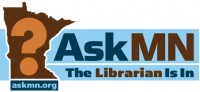 AskMN, a live online interactive service for information and research help available to all Minnesota residents and students, has just released its annual report for 2012 which shows it saw a 51% increase in questions from Minnesota patrons over 2011, and it received questions from residents in 84 of Minnesota's 87 counties. Great River Regional Library (GRRL) was one of 13 academic and public libraries that joined AskMN during the year. Visitors to the GRRL website can  access AskMN by clicking the Ask a Librarian link and then linking at Instant Messaging. AskMN users are able to chat with a librarian and get their questions answered in real time 24 hours a day, seven days a week.
Participating libraries in AskMN help each other's patrons when their local library is not available. AskMN is itself part of a larger cooperative called the QuestionPoint 24/7 Reference Cooperative that allows Minnesota patrons to get questions answered via instant messaging when Minnesota libraries are normally closed. In exchange for participation, GRRL staff ready to answer questions monitor the AskMN helpline five hours weekly.
AskMN accepted a total of 31,329 questions during the year, of which 27,352 were from Minnesota patrons and 3,977 were from non-Minnesota patrons. A total of 946 questions came from residents within GRRL's service area.