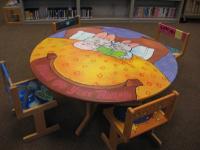 This summer, the children's area at the Al Ringsmuth Public Library in Waite Park received a colorful facelift when local artists Jill Dubbeldee Kuhn, Jessie Allen Johnson, and Sienna Dubbeldee Kuhn painted the existing children's table and chairs. Branch Manager Marilyn Patterson and the Waite Park Friends of the Library originally discussed replacing the furniture but decided that reusing and recycling existing furniture was a better fit for the library's mission.
The three artists transformed the utilitarian furniture by painting a different interpretation of a favorite children's picture book on each piece in the set. "We all enjoyed doing the project a great deal," said Jill Dubbeldee Kuhn. "Supporting creativity and reading in small children is the best gift any adult can share with a child. The quote by Rosemary Wells on the table says it best. '. . Read to your Bunny.'"
Jill Dubbeldee Kuhn, mixed media and mural artist, is also the Public Programming and Exhibition Associate for the Hill Museum and Manuscript Library at Saint John's University. Jessie Allen Johnson is an artist, home school teacher, and a nurse at Saint Cloud Hospital. Sienna Dubbeldee Kuhn, Jill's daughter, is a sophomore at the College of Saint Benedict. Both mother and daughter participated in the Art Chair Auction & Social fundraising event for the new St. Cloud Public Library.
Branch Manager Marilyn Patterson noticed an immediate increase in use of the table and chairs. "Children were using the table much more for creative activities, especially for creating their own works of art on the blank paper we provide," she said. "We have received a lot of positive comments about the transformation."