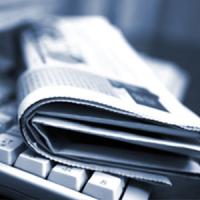 Read a newspaper from your home town. Number 51 in a series of uses for your library card.
Each location of Great River Regional Library subscribes to the local newspaper, and most also receive newspapers from selected area communities and some larger cities. The library in St. Cloud, our region's largest library location, subscribes to the Chicago Tribune, Duluth News-Tribune, Fargo Forum, Los Angeles Daily Times (Sunday edition), the Minneapolis Star Tribune, New York Times, St. Paul Pioneer Press, USA Today, Wall Street Journal and numerous newspapers from smaller towns.
Online versions of many local, national and even international newspapers can be accessed on library computers.
Whether it's sports, housing prices, the economy, or births, wedding and funeral announcements, your library can bring you news of home, so check it out!