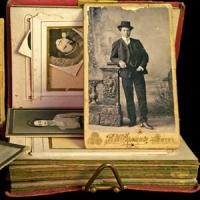 Trace your family tree! Number 41 in a series of uses for your library card.
Each family is different. Uncovering your family history can be heartbreaking, inspiring, disappointing, exciting… but it will always be personal. Because our families make us what we are, interest in genealogy runs high; you can even watch TV shows that unveil the genealogy of celebrities.
Your library has resources to start you on your own search and possibly far along the major branches of your family tree. The section of the non-fiction books beginning with the number 929 contains family history books. These include information resources, such as Scandinavian Immigrants In New York 1630 – 1674, and "how-to" books such as The Handybook For Genealogists.
If you know enough about your family to recognize names of ancestors and the communities in which they lived, census records may be useful. All the U.S. Federal Census files from 1790 to 1930 are available through Heritage Quest, an online database provided by the library free of charge and available from home with your library card number. Heritage Quest also includes additional data sources going back to the Revolutionary War.
Local resources differ among the 32 GRRL locations. The St. Cloud Public Library has obituary index information for the St. Cloud Times that extends to 1887. The library also has an index of Stearns County cemetery headstones. Staff also frequently contact libraries in other communities to gain access to historical records on behalf of patrons.
Check with your local librarian for local resources and how to begin your own search for family history.